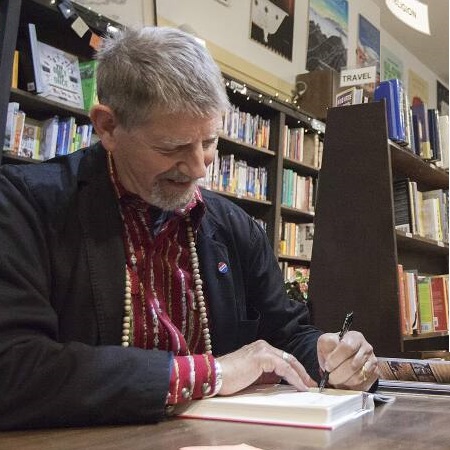 In early 2024, Inner Traditions will publish Peter's latest book, Zen In The Vernacular with a foreword by Richard Lewis. Buddha's core teachings explained in accessible, everyday language
In this engaging guide to Zen Buddhism, award-winning actor, narrator, and Zen Buddhist priest Peter Coyote explores the fundamental teachings of the Buddha as they apply to modern life. He presents his own contemporary interpretations of the Four Noble Truths, the Three Treasures, the Eightfold Path, and other core Buddhist ideas.
Peter has written eleven scripts. To learn a bit more about them, click the button below.
Peter has contributed to books, articles and speeches. To learn more about them, click the button below.
Coyote's left-wing politics are evident in his articles for Mother Jones magazine, some of which he wrote as a delegate to the 1996 Democratic National Convention; in his disagreements with David Horowitz; and in his autobiography Sleeping Where I Fall, published by Counterpoint Press in April 1998 and republished in 2015, depicts stories from the 1967 to 1975 counter-culture period. One of the stories in his book is "Carla's Story," about a 16-year-old mother who lived communally with Coyote, and who, after learning of her husband's murder, became a drug addict, then a prostitute, had her children stolen, and continued to spiral downhill until she turned her life around. This story was published in Zyzzyva, and awarded the 1993–1994 Pushcart Prize.
In April 2015, his memoir The Rainman's Third Cure: An Irregular Education was released, where he "provides portraits of mentors that shaped him—including his violent, intimidating father, a bass player, a Mafia Consiglieri, and beat poet Gary Snyder, who introduced him to the practice of Zen."
In 2021, Inner Traditions published The Lone Ranger and Tonto Meet Buddha. In it, Coyote reveals how to use masks, meditation, and improvisation to free yourself from fixed ideas of who you think you are and help you release your ego from constant defensive strategizing, calm the mind's overactivity, and allow spontaneous playfulness to arise out of your deepest nature.
In September 2021, Four Way Books released a collection of Coyote's poetry entitled Tongue of a Crow. The poems span five decades and cover his life as "an activist, actor and Zen Buddhist priest."
Each of Peter's books is presented below.
"I think of myself as a writer who makes his living as an actor. By the time I started acting, I had a family and I had real economic pressures on me. I didn't feel like I had the leeway to go to the London Academy of Dramatic Arts, which turns out the greatest English-speaking actors on Earth. That left me with certain insecurities. I also had the idea, not to make an excuse, but I better make my offstage life my first priority. I'm extremely grateful for having done 160 films and working with great directors like Polanski and Walter Hill and Steven Spielberg and Pedro Almodóvar. But it was never the source of my joy and fulfillment. That's just the truth. One felt authentic, and one didn't."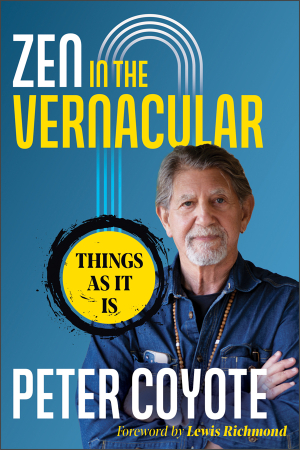 Publication Expected Early 2024
In this engaging guide to Zen Buddhism, award-winning actor, narrator, and Zen Buddhist priest Peter Coyote helps us peer beneath the Japanese gift-wrapping of Zen teachings to reveal the fundamental teachings of the Buddha and show how they can be applied to contemporary daily life. The author explains that the majority of Western Buddhists are secular and many don't meditate, wear robes, shave their heads, or believe in reincarnation. He reminds us that the mental/physical states achieved by Buddhist practice are universal human states, ones we may already be familiar with but perhaps never considered as possessing spiritual dimensions.
Revealing the practical usefulness of Buddhist philosophy and practice, Zen in the Vernacular shows how Zen offers a creative problem-solving mechanism and moral guide ideal for the stresses and problems of everyday life.
Peter Coyote's first collection of poetry takes us on a whirlwind tour of an eclectic and exciting life as an actor and Zen Buddhist priest, meandering from love affairs to marriage to divorce to the Sixties to psychedelic spirituality and beyond. Written over several decades, these poems read as a collage, each piece distinct and contributing to a cohesive lyric narrative.
PLINK-PLUNK
Trees comb water
from fog
sigh, sing, play
the glistening ground
of mind.
Trees comb water
sigh, sing, play
the glistening ground
of mind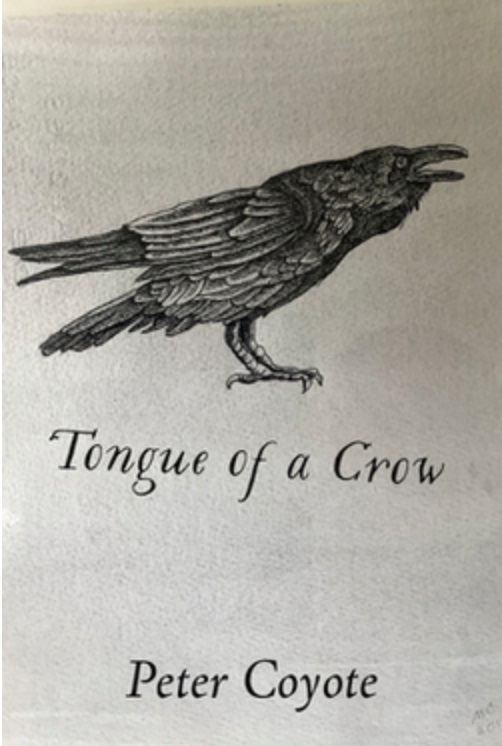 Sharing a series of mindfulness techniques and acting exercises, Coyote reveals how malleable the self can be.
Developed through 40 years of research and personal study, Coyote's synthesis of mask-based improv games and Zen practices is specifically designed to create an ego-suppressed state akin to the mystical experiences of meditation or the spiritual awakenings of psychedelics.
Likening the liberated state induced by mask work to "Enlightenment-lite," Coyote draws on Buddhist philosophy to describe how and why the exercises work, as well as how to make your newly awakened and confident self a part of your daily life. In true Zen form, woven throughout the narrative is a lighthearted parable of an out-of-work Lone Ranger and Tonto, who meet Buddha and experience spiritual awakening. Illuminating the lessons of mask work, the transformation of the Lone Ranger mirrors that of the individual pursuing this practice, revealing how you will come to realize that the world is more magical and vaster than you thought possible.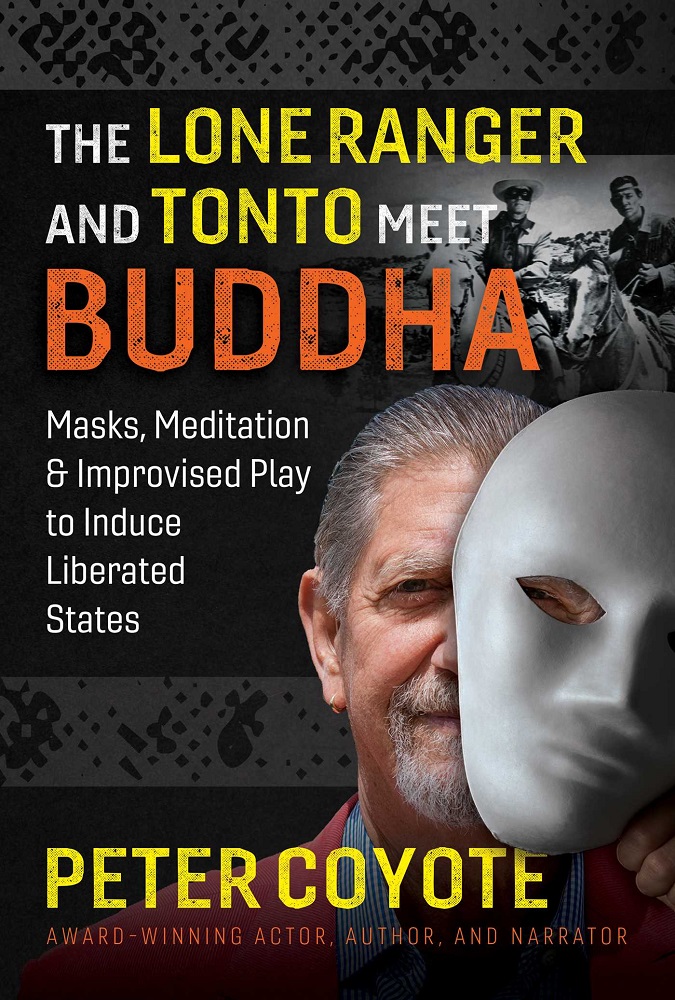 The guiding metaphor in Peter Coyote's new spiritual biography is drawn from a line in an early Bob Dylan song. For Coyote, the twin forces Dylan identifies as Texas Medicine and Railroad Gin represent the competing forces of the transcendental, inclusive, and ecstatic world of love with the competitive, status-seeking world of wealth and power. The Rainman's Third Cure is the tale of a young man caught between these apparently antipodal options and the journey that leads him from the privileged halls of power to Greenwich Village jazz bars, to jail, to the White House, lessons from a man who literally held the power of life and death over others, to government service and international success on stage and screen.
Expanding his frame beyond Sleeping Where I Fall, Coyote provides readers intimate portraits of mentors that shaped him: a violent, intimidating father, a be-bop Bass player who teaches him that life can be improvised, a Mafia consiglieri, who demonstrates to him that men can be bought and manipulated, an ex game-warden who initiates him into the laws of nature, a gay dancer in Martha Graham's company who introduces him to Mexico and marijuana, beat poet Gary Snyder, who introduced him to Zen practice, and finally famed fashion designer Nino Cerruti who made the high-stakes world of haute monde Europe available to him. Counterpoint Press
Sleeping where I fall
In his energetic, funny, and intelligent memoir, Peter Coyote relives his fifteen-year ride through the heart of the counterculture a journey that took him from the quiet rooms of privilege as the son of an East Coast stockbroker to the riotous life of political street theater and the self-imposed poverty of the West Coast communal movement known as The Diggers. With this innovative collective of artist-anarchists who had assumed as their task nothing less than the re-creation of the nation's political and social soul, Coyote and his companions soon became power players.
In prose both graphic and unsentimental, Coyote reveals the corrosive side of love that was once called free"; the anxieties and occasional terrors of late-night, drug-fueled visits of biker gangs looking to party; and his own quest for the next high. His road through revolution brought him to adulthood and to his major role as a political strategist: from radical communard to the chairman of the California Arts Council, from a street theater apprentice to a motion-picture star.